Terroirs & Parcels
Our 4 AOP Terroirs are Languedoc Grés de Montpellier appellation. The Grés de Montpellier stretch east and west of Montpellier, bounded on the west by the Hérault valley, the Pic Saint-Loup region to the north, the Vidourle valley in the east and the coast to the south.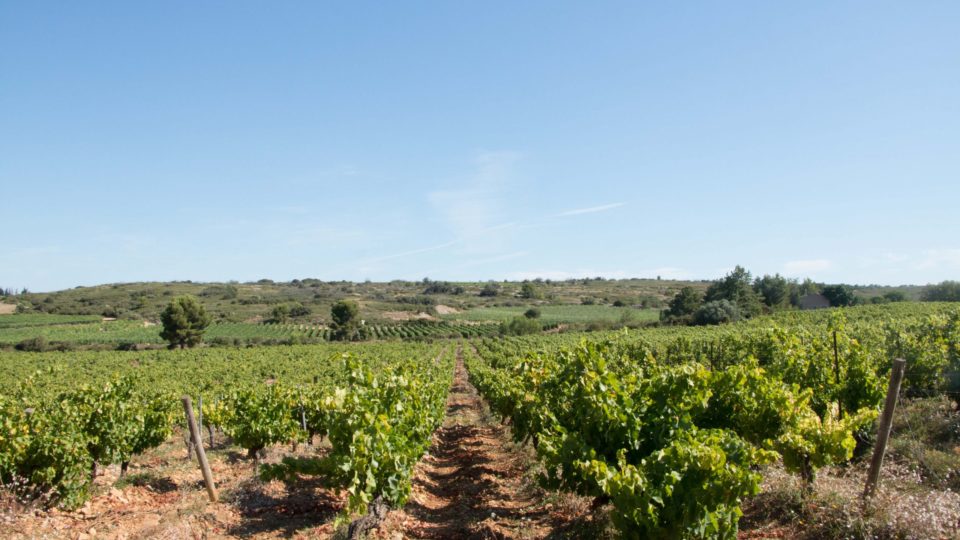 It is protected from northern influences by the Black Mountain and the Cévennes.
A dry climate refreshed by damp summer sea-breezes encourages early maturity and a well balanced vegetation cycle.
This marine spray gives a good freshness and minerality which is commun to any Grés de Montpellier wines.
Discover our terroirs and parcels
Charmes
5 hectares
| | |
| --- | --- |
| red grape varieties : | Syrah, black Grenache, Cabernet Sauvignon & Carignan |
| White grape varieties : | Chardonnay, Grenache, Marsanne, Roussanne, Sauvignon, Vermentino & Viognier |
| Altitude : | 200m |
| Sol : | clay and limestone - pebbles |
| Environment : | Green oak trees and cistus |
| Orientation : | South - West |
| Wind : | West, North and North-East |
Jardins d'Albisson
IGP Pays d'Oc
Aurore
AOP Grés de Montpellier
Calypso
AOP Grés de Montpellier
Clos des Charmes
AOP Grés de Montpellier
Passions
AOP Grés de Montpellier
Perle Noire
AOP Grés de Montpellier
Parcelles dédiées aux Blends
AOP Grés de Montpellier
Légendes
3 hectares
| | |
| --- | --- |
| red grape varieties : | Syrah |
| White grape varieties : | Viognier |
| Altitude : | 250m |
| Sol : | clay and limestone – big pebbles |
| Environment : | Pine trees, cistus and garrigues bushes |
| Orientation : | North-West |
| Wind : | West & East |
Echo du Clos des Légendes
IGP Pays d'Oc
Clos des Légendes
AOP Grés de Montpellier
Peyrals
16 hectares
| | |
| --- | --- |
| red grape varieties : | Syrah, black Grenache, Mourvèdre & Carignan |
| White grape varieties : | white Grenache, Roussanne & Vermentino |
| Altitude : | 200 à 300m |
| Sol : | clay and limestone – big pebbles |
| Environment : | Pine trees, cistus and garrigues bushes |
| Orientation : | North-West |
| Wind : | Marine, North, West, North-East |
Plénitude
AOP Grés de Montpellier
Clos des Poètes
AOP Grés de Montpellier
Jardins d'Eden
AOP Languedoc
Murmures
AOP Grés de Montpellier
Parcelles dédiées aux Blends
AOP Grés de Montpellier
Vieux Chemin de fer
6 hectares
| | |
| --- | --- |
| red grape varieties : | Syrah |
| Altitude : | 150 |
| Sol : | Clay, limestone and Red ruffles |
| Environment : | Pine trees, cistus and garrigues bushes |
| Orientation : | North - West |
| Wind : | Marine, North and North West |
1955
AOP Grés de Montpellier
Parcelles dédiées aux Blends
AOP Grés de Montpellier