British world wine critic, journalist and writer of oenophile literature, Jancis Robinson works with her team to write tasting reviews for her magazine JancisRobinson.com.
It's with great pleasure that we share with you her collaborator Tamlyn Currin's feedback on the wines of Château Haut-Blanville and Domaine des 8 Lunes!
---
Les cuvées Château Haut-Blanville :
The first estate of Maison Blanville, Château Haut-Blanville was created in 1997 and is located in the AOP Languedoc Grés de Montpellier appellation area. The diversity of terroirs in this vineyard allows it to be worked according to the Burgundy climat model and to create incredible single parcel wines.
1955 – 2018
16/20
"Smells of lavender. Tastes purple and menthol and like milk chocolates filled with blueberry and damson liqueur. Like marshmallows dipped in dark chocolate. Intense, concentrated, and verging on Maury VDN-like sweetness with a goodly slosh of vanilla essence. Big, buffed-up, roughed-up tannins. Lots of stage presence but quite obvious and nothing like the elegance and transparency and sheer drinking pleasure of their 2016 Poètes and 2015 Muse."

Murmures – 2018
17/20
"Ripe, blackberry nose. Fruit, fruit, fruit. For a moment my fingers hovered above 'jammy' on the keyboard, and then the bright minerality, the fluid inkiness, the long acidity and the peppery herbs kicked in and the wine simply cannot be described as jammy. It's too interesting, too fresh, too layered. But the wine is channelling the essence of the black-berried bounty of a long, mellow autumn. Abundantly juicy and, despite the very high alcohol, beautifully balanced."

Poètes – 2016
17,5/20
"Cedary fresh on the nose – a freshness which infuses the mass of wild-strawberry fruit with this breathy, wild-minty coolth, forest-floor layers and woodland-mushroom secrets. The balance of this wine is superb! The tannins are very, very fine; as smooth and complex as lacquered wood. The acidity is held deep within the fruit, carrying mountain-lake stillness and depth, reflecting light upwards and through the fruit. What a joy to taste this perfectly ready, mature Languedoc wine that sings of its vineyard stones and sky."

Muse – 2015
17,5/20
"Beautifully resolved at eight years old. The bright, succulent red fruit is still shining, despite little gestures toward tertiary evolution. The tannins have melted into the fruit, taking on a pearly texture in the process. Little nudges of sautéed forest mushrooms, truffle, toasted cumin and nigella seeds form a frame that is mossy with cool freshness. Long, complete and every inch a classy wine, every inch Languedoc."

Élégante Rouge – 2019
16/20
"Malted red-fruit aromas. Big, sweet wine with chocolate-rich, clove-spiked fruit and fully rendered tannins. Cedary oak. Very high alcohol, but it's surprisingly well balanced."
---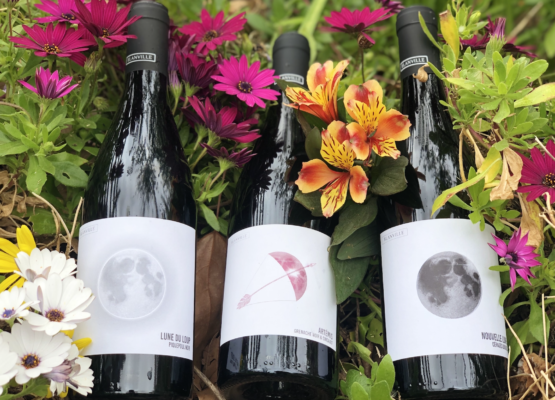 Les cuvées Dom

aine des 8 Lunes

:
Domaine des 8 Lunes is the Blanville team's new project: to give a second life to the Languedoc forgotten grape varieties and to share them. The vineyard is cultivated according to biodynamic principles, respecting the lunar calendar. The latter comprises 8 different phases, which inspired the estate's name.

Lune du Loup – 2022
16,5/20
"Pale, transparent red. Gorgeous! Strawberries and blood orange, Turkish delight peppered with pomegranate. Pithy, jewelled, sweetly spiced with a cheeky grin of acidity and swipe of candy. Brisk, wiry tannins. Glouglou wine for the thirsty! You could chill this."
Nouvelle Lune – 2022
16,5/20
"Baked-berry nose. Leafy, ripe-red-berry fruit, sweet cicely and hyssop. Really sappy and juicy and bouncy. Bursting with exuberant but uber-fresh fruit with a lovely sandy, spicy underdrift and herbal pungency. Like the love child of Frappato and Carmenère. Delicious, summer-drinking red, which would be really good with Neapolitan pizza!"
Infos & Contact : julie@blanville.com