Mourvèdre is a grape variety (vine / grape variety) which finds its origin between Catalonia where it is called Mataro and the south of France. Like Cabernet Sauvignon, it is recognized as a late harvested grape variety: late bud burst then late ripeness of the berries.
A rare grape variety with a good aging capacity
Throughout the wine-growing regions of the world, we note that this grape is rarely sold as a single grape variety, it is mostly found in blends with its two favorite companions: Syrah and Grenache Noir. Moreover, in some countries the "GSM" (Grenache-Syrah-Mourvèdre) has been popping on multiple wine lists in many restaurants.
However, there are also a few appellations and estates that exploit this rare grape variety as a single varietal wine, or even as a single terroir wine.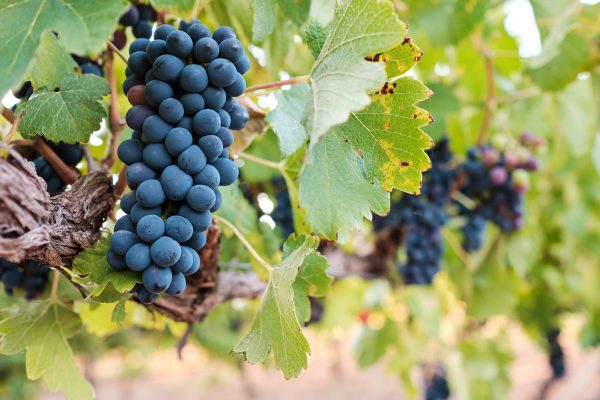 In Provence and more particularly in Bandol, it is the historical grape of this prestigious appellation rich of over a thousand-year-old history! It is sublimated in red of course, but also in rosé. It is indeed within this appellation that rosé has first been recognized as a great wine, thanks in particular to Mourvèdre …
The wines from this terroir are racy, powerful and made to improve over time after a few years in bottle.
Since 2002, there has been a Conservatory of Mourvèdre in the AOP Bandol, located in the town of Saint-Cyr. This place was created in order to preserve the diversity of this grape variety and to set up a genetic reservoir.
Cuvée to try: Domaine du Gros Noré AOP BANDOL ROUGE 2016
In South Australia, in the Barossa Valley region, Mourvèdre or rather Mataro (its Spanish name) is also recognized for being the source of exceptional wines.
Thanks to its hot climate and its geographical position in the southern hemisphere, it is picked up at the end of the harvest: between late February and early March. A 6-month lag with the French harvest!
It offers racy, spicy wines with beautiful tannin, with a leather side specific to the great Mourvèdre made with a sense of place.
Cuvée to try: John Duval, Annexus Mataro 2016 (from a century old Mourvèdre vine)
Poètes, our Single Parcel Wine of Mourvèdre
At Château Haut-Blanville, we vinify, among our parcel's selections, the parcel named "Poètes" which is one of our historic single parcel wines within the Grés de Montpellier. appellation. This plot of Mourvèdre is located at the top of the slope of our "Peyrals" terroir, in the town of Saint-Pargoire, where the stoniness is the most important.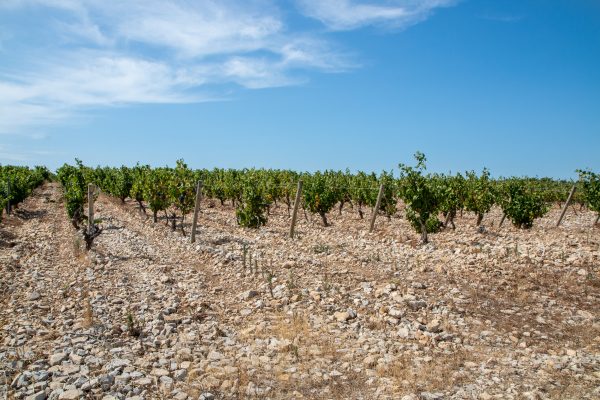 Its unique profile reminds me after a few years in bottle of the character of a great Barolo while in its youth it offers the typical characteristics of our terroirs: tannic power, salinity, black fruits and garrigue coated with a nice touch of sweetness brought by its delicate aging in French oak barrels.
This year again it will be harvested the latest, at the end of September, the announcement of a very beautiful vintage for this Mourvèdre thanks to significant thermal amplitudes and rainfall in September which will have allowed this beautiful plot to reach full maturity.
After a long maceration tailored for a great ageable wine, this cuvée will be barreled during the spring 2021 for a period of 2 to 3 years.
Lovers of our Mourvèdre "Poètes" can already drink its 2015 vintage, which has received one of the best reviews for Languedoc wines by the prestigious English wine critic Jancis Robinson:
Château Haut-Blanville Poètes 2015, 17.5/20 drink between 2020 and 2027:
 "A single parcel of Mourvèdre grown on limestone soils on the slopes of St-Pargoire.Élevage in used French oak barriques for 36 months.
Gorgeously peppery on the nose and palate, with sensuously ripe damson fruit. A touch of the classic Mourvèdre meatiness, but more along the profile of a peppery bresaola rather than saucisson. There is enormous elegance in this wine, a stillness, a precision and fineness of structure that belies its 14.5% alcohol. A beautiful wine which doesn't shout or dominate but must not be overlooked. (TC)"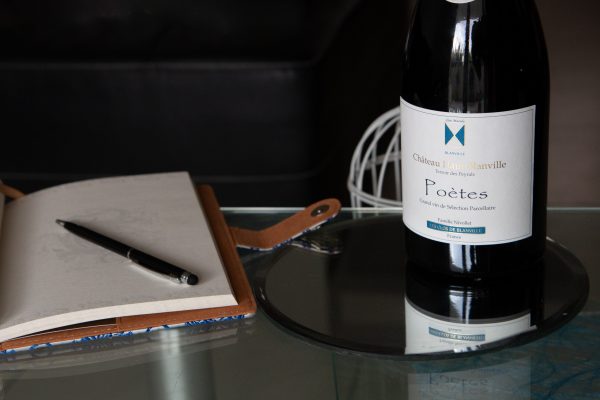 Article written by Baptiste Koch, Export commercial at Blanville.