The use of wooden barrels in wine has existed since Roman times. Its use was then above all practical, to transport wine by boat more easily than with amphorae. It's only much later that the winegrowers discovered that the barrel influenced the aging of the wine. So what does this famous wooden barrel add to our wines? Let's find out together in this article!
1 – The different types of vinification and aging in wine.
Once the harvest is over, the time comes for vinification and then aging. Different containers can be used for this crucial step, but the most common ones are the tank and the wooden barrel. Some winegrowers use more ancestral techniques that are gradually coming back, such as amphora, but this remains anecdotal. Carmes Haut-Brion honors those traditional containers in their modern version, as can be seen in their brand-new cellar designed by Philippe Stark.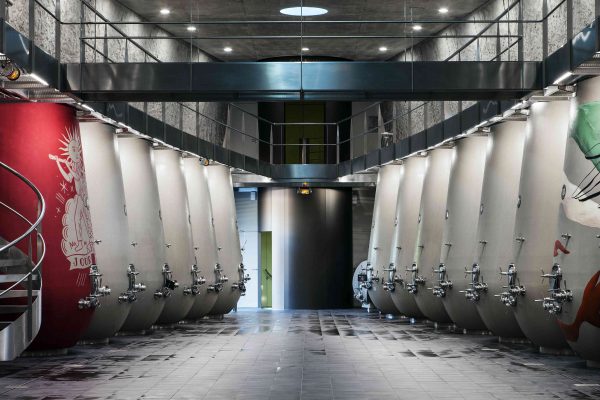 For red wines, the vinification is usually operated in concrete, oak, stainless steel or fiber vats. The grapes ferment until the sugar is completely converted into alcohol. Then they macerate in their juice for several days or weeks according to the profile the winemaker wants to give to its wine. For instance, in Blanville, the maceration period for our single-parcel wines depends on the vintage, but it usually lasts a minimum of three weeks.
Once the maceration is considered long enough, we can drain the vats and decide where to age the wine: in vat or in wooden barrel? This decision will depend on what profile is expected for the cuvée, taking into consideration the age of the vines and the grape variety.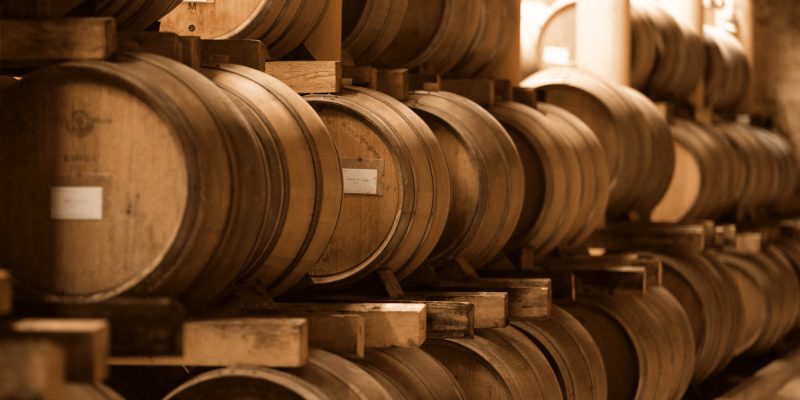 For white wines, finishing the alcoholic fermentation in wooden barrels has proven to be an interesting technic: it creates fullness and complexity, and provides a specific aromatic profile to your wine. Although this technic is becoming rare, it is still being used in the Burgundy and Bordeaux regions, as well as in Blanville, where we have been fermenting our white wines in barrels for many years. And the results are more than conclusive! As an example, take a taste at our cuvée "Jardins d'Albisson", which was just awarded 2 stars in the Guide Hachette 2021!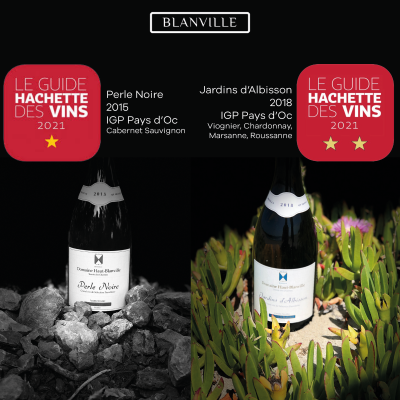 Good to know: Château de l'Ou, with its cuvée "Infiniment Rouge", offers a red wine entirely vinified in wooden barrels, which is very rare! Each year, once the alcoholic fermentation is over, and after skins have been removed, the barrels are closed by the cooper to begin aging.
2 – Which type of aging profile for which?
If you're looking for a fruity wine, providing freshness thanks to a touch of acidity, and not intended to be kept for years in your cellar, the vat is then recommended: this is called "neutral aging", with the stainless steel being perfectly hermetical and not providing any external aroma.
On the contrary, if you wish to bring complexity and fullness, and create long-aging wines with complex aromatic profiles, it is better to turn to aging in wooden barrels, also called "non-neutral" aging.
Wooden barrel will bring three main characteristics:
Micro-oxygenation: as wood is a fibrous material, it will allow the wine to be "breath" thanks to its porosity. Barrel aging can last for several years, helping the wine to stabilize over time. This is why wines aged in barrels often have a greater aging capacity and finer tannins. Usually, tannic and highly concentrated juices are put in barrels for aging.
Aromas: wood is a living material. In contact with the wine, it will transfer specific aromas to it. The most common aroma notes brought by wood are vanilla, toast and roasting. The newer the barrel, the greater the transmission of aromas.
Tannins: wood, like any plant, has its own tannins. And surprisingly, when put in contact with the wine, the wood tannins coupled with the wine tannins will not amplify this feeling of dryness and astringency naturally brought by tannins. On the contrary, this symbiose will soften the tannins and allow the wine to round-up and gain body in mouth. This is why it is recommended to use barrel aging on grape varieties that provide powerful and rather tannic juices, so that the wood doesn't "crush" those grape tannins and a nice balance is created naturally.
3 – The different types of barrels
What is called a "cask" can be of different types. They are usually distinguished by three main criteria:
The most common variety used in barrel production is Oak. The latter may be of different origins (French, American, Austrian, …), which will have a direct impact on the size of its grain: the finer the grain, the more aromas will be transferred to the wine. On the contrary, the larger the grain, the more important the micro-oxygenation process will be, and the more wood tannins will be transferred to the wine.
For some white wines, it may also be interesting to use Acacia barrels, especially on dry grape varieties such as Chasselas.
In France, we mostly use barrels of 225L (called "Bordeaux") or 228L (called "Bourgogne"). Barrels of 500L and 600L (called "Demi-muids") are also quite common, although the 600L ones are a bit rarer because more expensive.
But much larger wooden casks, called "foudres", can be found in some wineries: their dimensions can reach those of a vat (usually 35 to 130HL). Although imposing and beautiful, those big wooden casks will have much less impact on the wine aromas and tannins than small barrels. In fact, the smaller the barrel, the greater the impact, simply because of a greater ratio between wood surface and wine volume.
The age of the barrel and its "toasting":  
A new cask will provide a lot of specific aromas as mentioned above. These aromas will be more or less intense according to way the barrel was heated, or toasted: a medium heat will bring more vanilla notes, whereas a stronger heat will create toasty aromas.
On the contrary, an old cask, which has already been used on one or more aging cycles, will allow the micro-oxygenation process to take place, bringing roundness, soft tannins and complexity, but it won't have much effect of the aromatic profile of the wine.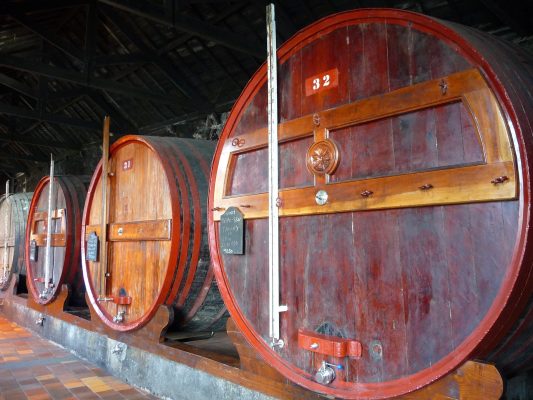 4 – Why Blanville often uses barrel aging
As previously mentioned, not all wines are suitable for aging in barrels. In Blanville, our soils are poor and very stony, and the average yields observed in our red vineyards are under 25 HL / ha. These vines produce highly concentrated grapes with a strong presence of tannins, which makes them perfectly suited for long aging in oak barrels. This is why Château Haut-Blanville has specialized over time in the creation of complex and full-bodied red wines characterized by a long-aging potential.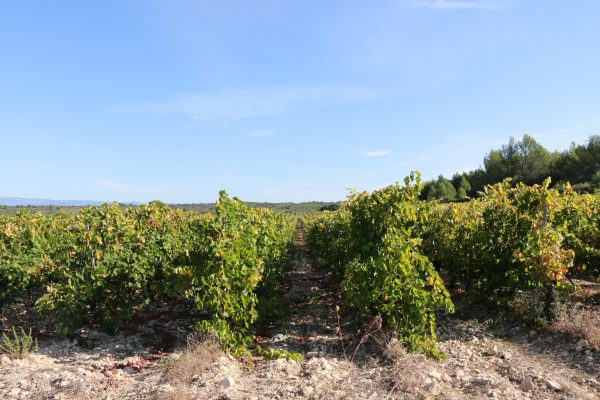 For our three "Grands Crus" (Légendes, Murmures and 1955), we use very high-end new oak barrels from Radoux Blends (ultra-fine grain), which bring light notes of vanilla aromas and produce very fine tannins. The wine stays in barrel for at least 3 years.
For our other single-parcel red wines, we use the barrels after 1 aging cycle of the "Grands Crus":  we speak of "one-wine barrels". Those bring full-body and soften the tannins while preserving the fruit of the wine. For these cuvées, the wine stays in barrel for an average of 2 years.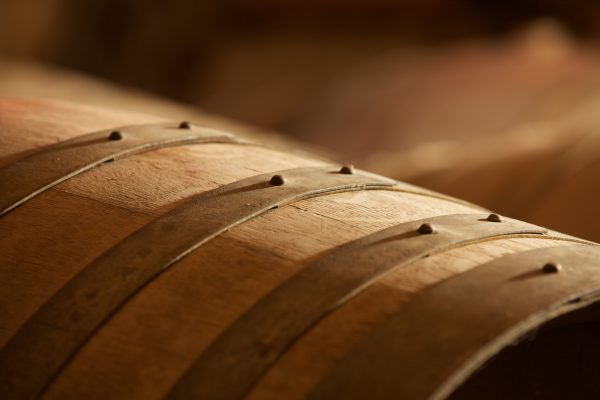 Finally, for our white wines, we use the Burgundy vinification technic: the wine is put into 225L and 500L casks before the end of the alcoholic fermentation, when the density is around 1,050. From then, the lees (dead yeast residues) will be regularly stirred with a stick (bâtonnage) to maximize exchanges with the wine, which will be kept in the barrel until the following summer. The finished wine will then be racked off and placed in vats for a long and quiet decantation…
Now let's practice! We invite you to discover and compare three different cuvées made off 100%-Shiraz which have been aged differently:
1955 2015: 100% in new barrels
Calypso 2015: 100% in "one-wine" barrels
Volcano 2018: 100% in stainless steel vats
Order your Discovery Box here!